<![if !IE]>
<![endif]>









Contact details


---

Dr. Upendra Rajapakshe
(Director - FARU)
Faculty of Architecture
University of Moratuwa
Sri Lanka
Email: faru@uom.lk
Phone: +94 112 650301 Ext: 7100


Mr. AMS Attanayake
Administrative & Technical Coordinator
Phone: +94 112 650301 Ext: 7136
Email: ruwana@uom.lk








For the First Time:
Multidisciplinary Collaborative research: Field of Architecture and Medicine
National Research Grant: VET-TF of the Department of Motor Traffic
Funded by the
Vehicle Emission Testing Trust Fund (VET-TF)
Approved research grant for the Year 2016 - Rs. 5.7 Million (First Phase of the Study)
HSE Project: Healthy School Environments Effect of transport related air pollution on respiratory illnesses of school children
Research team:
Dr. Indrika Rajapaksha
(Principal Investigator),
Senior Lecturer, Department of Architecture
Prof. Saroj Jayasinghe
, Professor of Clinical Medicine,
Department of Medicine, University of Colombo and
Dr. Shreenika De Silva
, Senior Lecturer,
Department of Community Medicine,
Faculty of Medicine, University of Colombo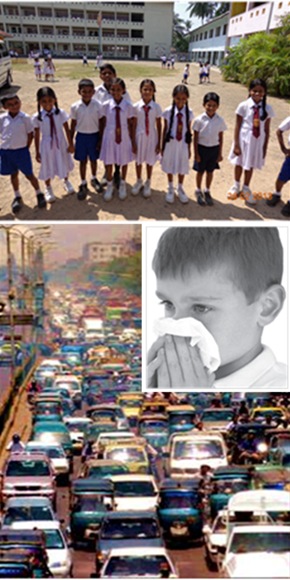 Source: http://www.dailynews.lk , 30th May 2007,
http://www.sundayobserver.lk, 26th Feb. 2012,
http://www.flickr.com
Indoor air pollution is a major global public health threat requiring greatly increased efforts in the areas of research and policy making. There is an escalating scientific and medical evidence that exposure to fine and ultrafine particulate matter could have relatively more significant health implications than exposure to larger particles or to other airborne pollutants.
Respiratory illnesses are accountable for second leading cause of hospitalization in Sri Lanka over past 5 years and the second foremost cause for death of children aged 5 to 14 years.
Characteristically urban schools are located along and close proximity to major road ways and majority of the classrooms are primarily naturally ventilated.
This research will instigate a platform to promote healthy classrooms and school environments by formulating indoor air quality guidelines. Moreover formulates Master Planning Guidelines for urban school designs to buffer traffic emission pollution.
International collaboration (In progress)
Prof. Dr. Lidia Morawska, Faculty of Science and Engineering, Queensland University of Technology (QUT), Brisbane, Australia
Director and Founder of the International Laboratory for Air Quality and Health, QUT:
WHO Collaborating Centre on Air Quality and Health